The Click Report will show your staffs' click through rates (CTR) broken down by baseline, campaign and spear-phishing emails. The CTR is determined by unique clicks, which is the first time an employee clicks on a link or attachment in a simulated phishing email.
The CTR will quickly show which individuals are engaging with simulated phishing emails. We recommend resending the SCAM 101 training for users that have a high CTR.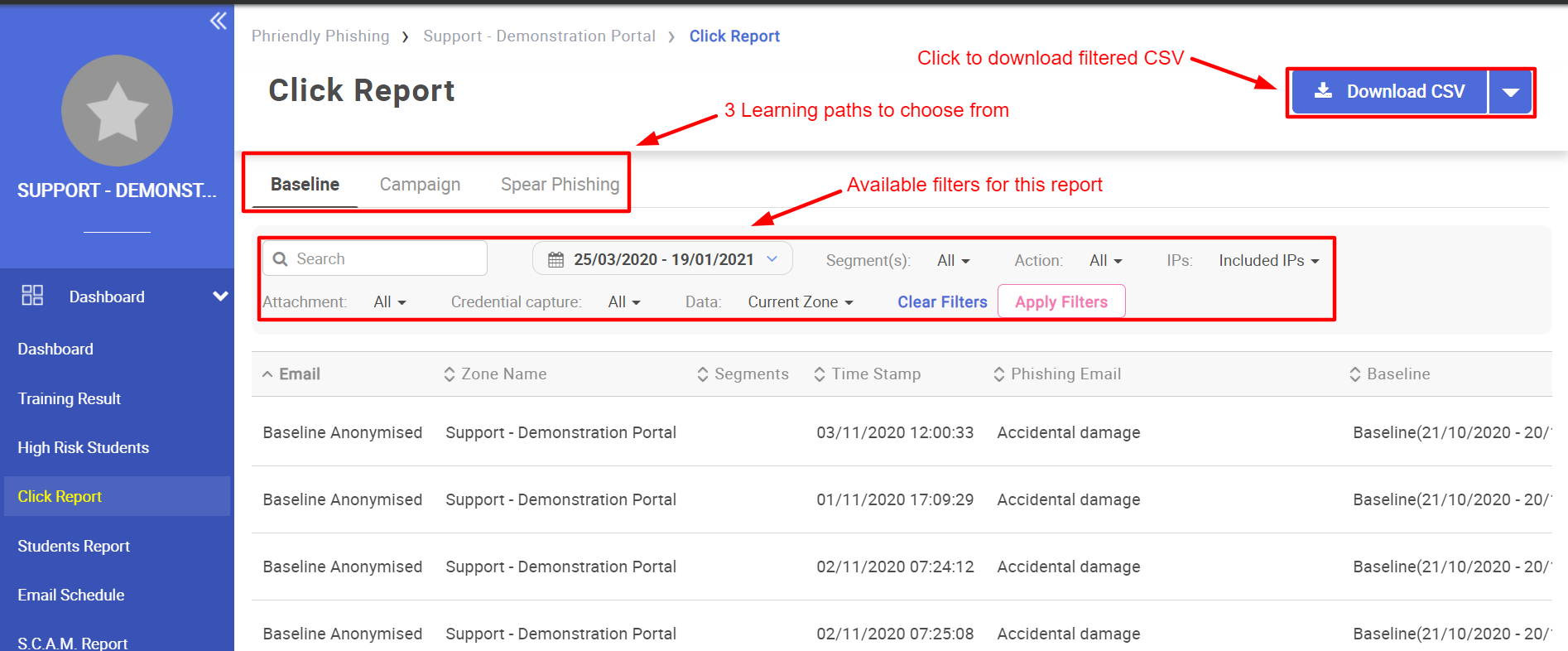 The Click Report is important because:
You can view click reports of the learning paths broken down individually
There are a range of filters that can be applied to customise your report
Reports can be downloaded as a CSV
Important definitions (found under the action filter)
Clicked Email - When a user has clicked on a link in a simulated phishing email
Opened Email - When a user has opened an email

Note: we track an open when a transparent 1x1 pixel image embedded in the email is downloaded. Outlook often disables images being downloaded by default so if this happens we are unable to track the open.

Opened Attachment - When a user opens an attachment in a simulated phishing email
Submitted Credentials - When a user submits login details in a simulated phishing email
How to run a Click Report
1. Select Dashboard > Click Report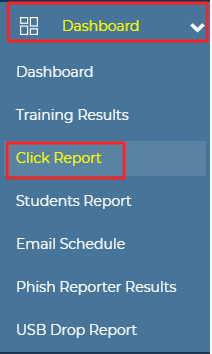 2. Select the baseline, campaign or spear phishing report and apply the applicable filters. You will most likely be using the "Action" filter.

3. The data in this report shows employee email and IP address, phishing email subject, time the email was clicked, and the user agent
4. Once you have determined the parameters for your Click report, be sure to download from the options
Historical Report - all click data in your zone
Filtered Report - only the filtered data selected
Clicks report by month - a monthly report of clicks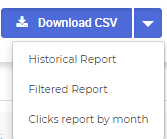 Explore Phriendly Phishing's award-winning course catalogue here!