The S.C.A.M. Report shows the individuals that are reporting phishing emails using the S.C.A.M Outlook Add-in.
Note: You must have the S.C.A.M Outlook Add-in. configured in your account to see this tab in your dashboard. If you're interested in using this feature, then send this information to our support team to configure in your account.
In this report, we want to see consistent reports from students on Phriendly Phishing simulated emails to ensure a behaviour change and pattern is occurring. The more Phriendly Phishing simulated emails sent then the more reported emails in this report.
The safe sender and other phishing emails reported using the S.C.A.M reporter Outlook add in should be regularly investigated.
Key Features
Report broken down by type of email sent: Phriendly Phishing, Safe Sender and Other
Ability to filter by date range
3 separate views by day, week, or month
Report can be downloaded as a CSV
How to pull a S.C.A.M. Report
1. Go to the S.C.A.M. Report on the left hand side of your dashboard
2. Use the date range filters or views to determine the data timeframe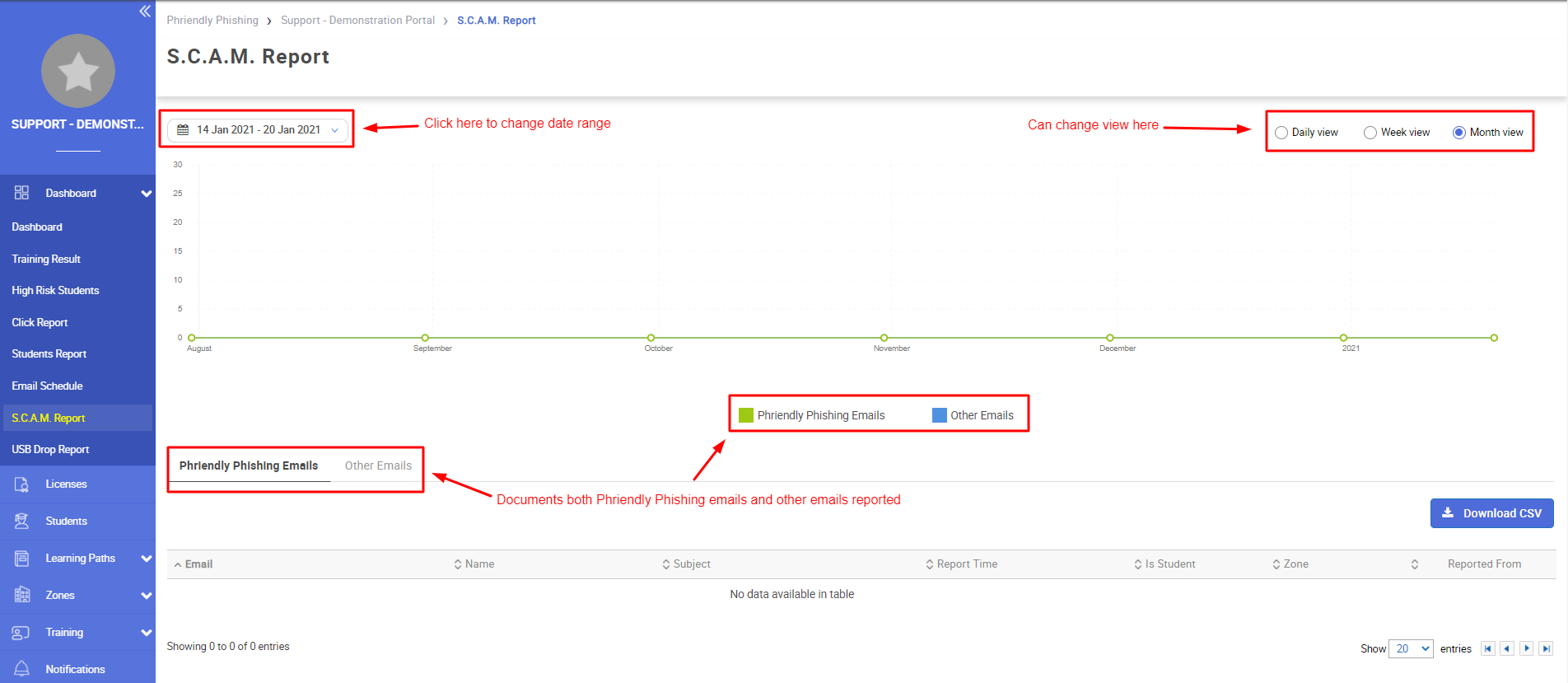 3. Here your S.C.A.M. Report data will appear and will be broken up by
Phriendly Phishing emails: email templates sent from our system to the student and the student reported the email using the S.C.A.M reporter Outlook add in
Safe emails: emails that have been deemed from a "safe" and/or internal email address
Other: outlier emails that might be legitimate phishing emails and your security team should investigate further
Use the download button to download a CSV of your S.C.A.M. report

Send the requirements checklist to support to activate S.C.A.M report Outlook Add-in