Here you will find the steps for re-installing the newest version of the Phish reporter Outlook add-in.
Note: To prevent any configuration issues please follow all the steps in the guide.
Re-Install the Phish reporter (desktop version)
1. Uninstall the current version of the reporter.
Navigate to your Apps and features settings then searching Reporter.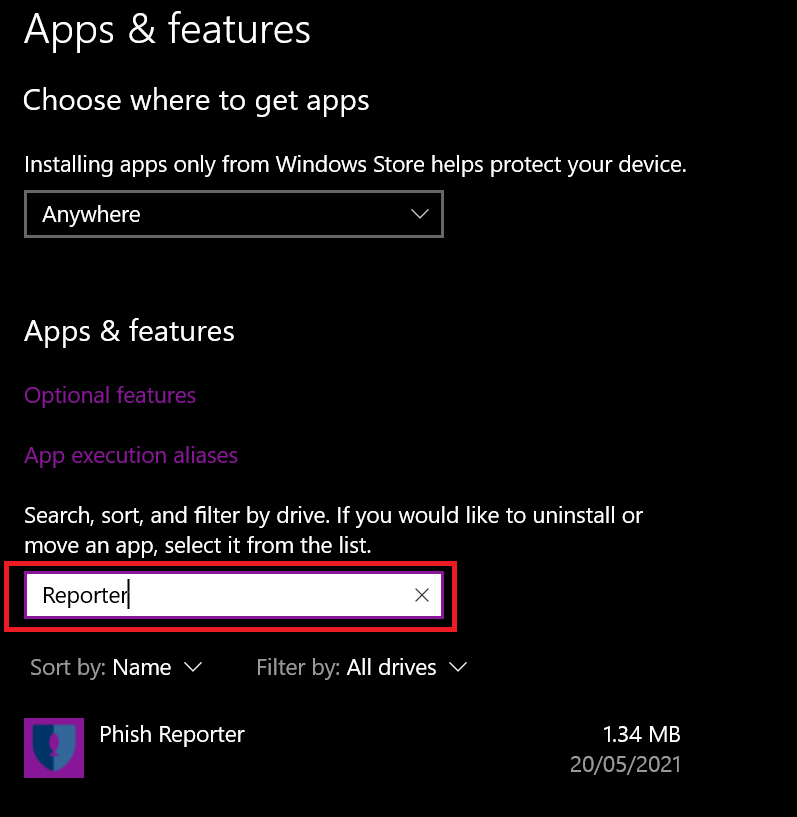 Select the Phish Reporter and click Uninstall.

Once this has been completed, the Phish Reporter Outlook add-in has successfully been uninstalled.
2. Next, you will need to delete the old configuration file.
The default location is %user%\AppData\Roaming\Phish Reporter, however it can vary based on the 'Log and configuration location' settings you specified in the portal. If you selected a 'Custom' location it will be found there.
The default location for the previous version of the add-in was %userprofile%\Documents\Phriendly Phishing\SCAM Reporter"
In this location, please delete the OutlookAddinConfig.bin file as seen below

Alternatively for previous version it will be look like this.

3. Next before reinstalling the Phish reporter is removing the registry keys.
To remove the registry keys you will need to open the Registry Editor application.

Then delete the folder in this location Computer\HKEY_CURRENT_USER\Software\Phish Reporter or for previous version may be "Computer\HKEY_CURRENT_USER\Software\Phriendly Phishing"
4. You have successfully removed all Outlook Add-in settings and you can following the Install Phish Reporter (Desktop) Guide to finish re-install the reporter.
Note: This guide is to reinstall it on a single machine. If you are deploying these steps across your organisation your approach will vary depending on your internal company system. However, it is important to remove these files from this location.
Explore Phriendly Phishing's award-winning course catalogue here!