User synchronisation enables you to connect your Active Directory to your Phriendly Phishing account. When an individual is configured in your AD then they will automatically synchronise this new staff member in your Phriendly Phishing account.
Note: To access the documentation linked below you will need to set up a Zendesk username and password.
The benefits of configuring this feature are;
Save account administration resource time from manually uploading user lists
Automatically sync new staff when they are added to your organisation's active directory
Automatically remove staff when they leave the organisation
Enable automatic enrolment to kick start a learning and phishing campaign workflow
To enable user synchronisation
Log into your Phriendly Phishing admin account. Go to the settings cog in the top right-hand corner. Select User Synchronisation to see options for configuration.
There are 4 different options to configure, select the method and visit the how-to documentation to set up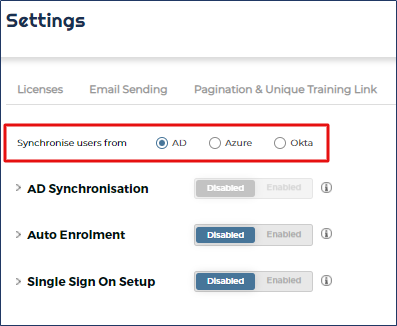 Explore Phriendly Phishing's award-winning course catalogue here!