The Monthly Phishing Campaign is a continuous chain of monthly phishing emails designed to progressively improve the detection and reporting capabilities of your staff for real-life instances of phishing emails. 
These emails are designed to start easy and get progressively harder as staff become more skilled and more confident.
Things to Note:
Any customized or new Email Templates added after the schedule is set, which happens 7 days before the start of the training block or course, will not be added to the schedule.

Email Templates

 removed after the schedule is set, are removed and a new email is added in its place. 
To Schedule the Monthly Phishing Campaigns
1.  Log into your dashboard and go to the Learning Paths tab. Select New > Campaign (a Campaign creation page will open under the timeline)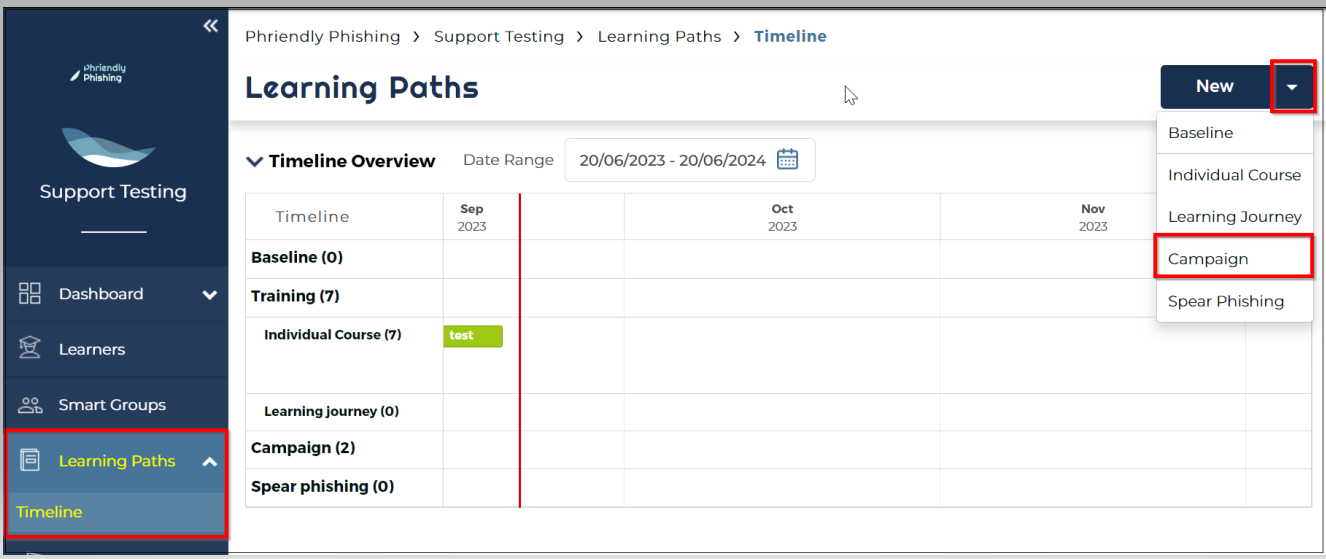 2. Provide a Name for the Campaign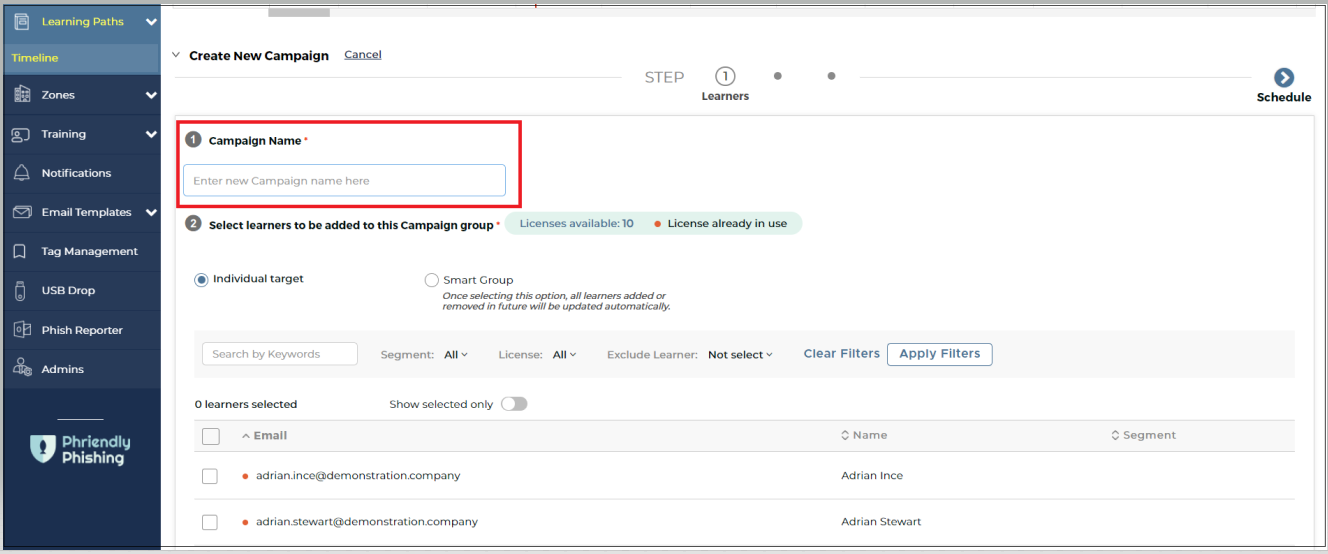 3. Select the learners you would like to include in the Campaign . (Using the filters and search function, you can refine the list of staff you would like to be part of the Campaign.) Once learners are selected click Schedule to advance to the next page. 
Note: If a learner has a red dot next to their name, they are already scheduled for something in the system and are already using a license. Selecting them again will not use an additional license.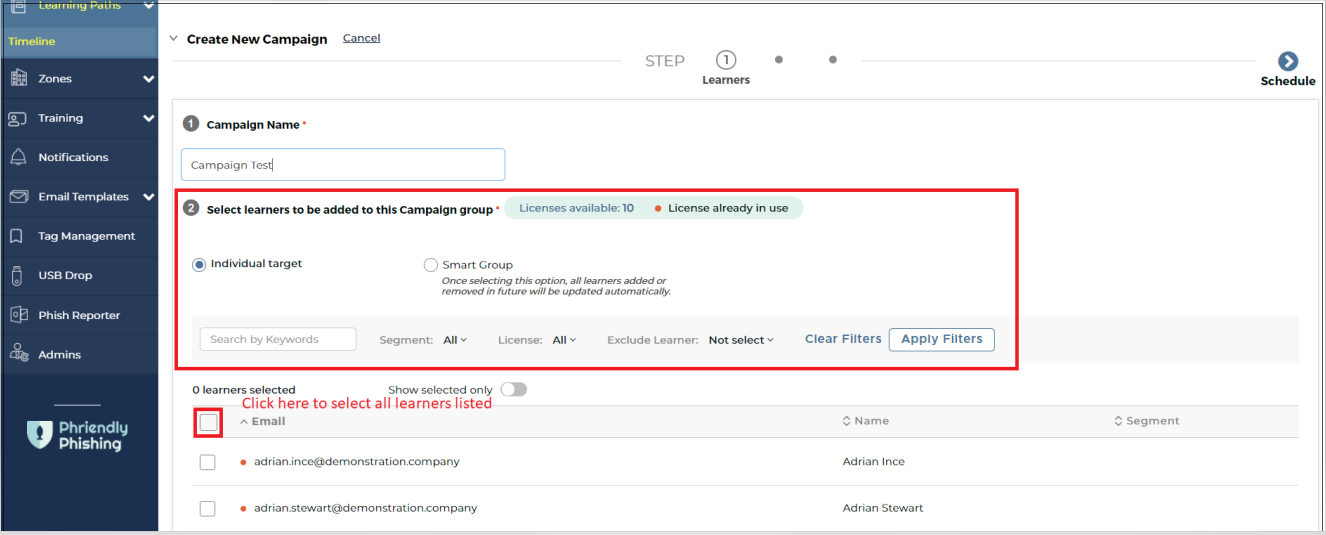 4. Select the Campaign duration. Optionally you can click the preview button to see how it fits in with your existing scheduled learning paths. Click Summary to advance to the next page. 

Note: The minimum amount of time a monthly phishing simulation can be scheduled for is 14 days. 
5.  Check the details on the summary page. If everything looks okay, click Finish to schedule the new Campaign. 

Once completed, the monthly campaigns will appear in your Learning paths timeline. You have the ability to edit, pause or remove a campaign once it's been set up.
To Edit a Monthly Campaign 
Select the campaign you're looking to modify and select the draw icon to update the details of the campaign. Or select the pause or bin icon to remove. 
Select Save to keep the changes you've made.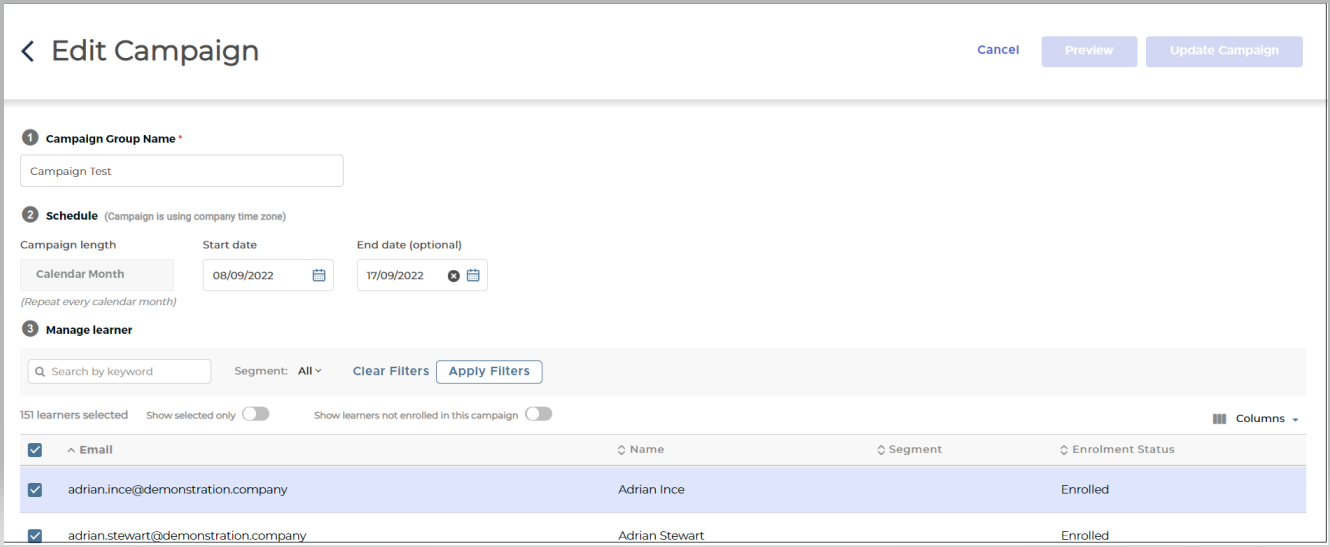 Explore Phriendly Phishing's award-winning course catalogue here!