The Phish reporter app is available in Google Workspace for reporting phishing emails. Administrators can use this service to install the Phish Reporter add-in for all users and manage its permissions.
This guide will take you through the admin experience so you will know what to expect when implementing this application.
How to Install the GSuite Phish Reporter
1. Log in to the Google Admin console as a super admin.
2. Select Apps > Google Workspace Marketplace apps > Apps list. Then select Add App to Domain Install list. The page will open the Google Workspace Marketplace page.

3. Locate the Phish Reporter add-in, and select it.

4. Select Domain Install > Continue.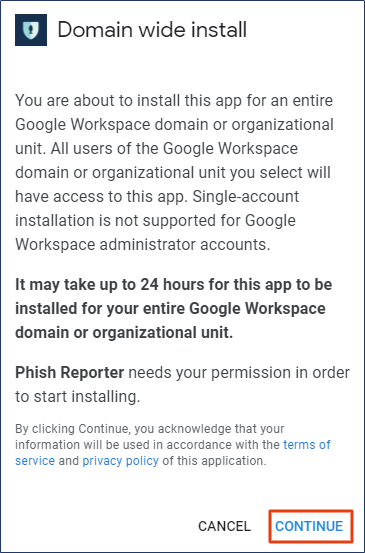 5. On the pop-up notification, review and then confirm the Terms of Service, Privacy Policy, and the Google Workspace Marketplace's Terms of Service by ticking the checkbox, then select Allow.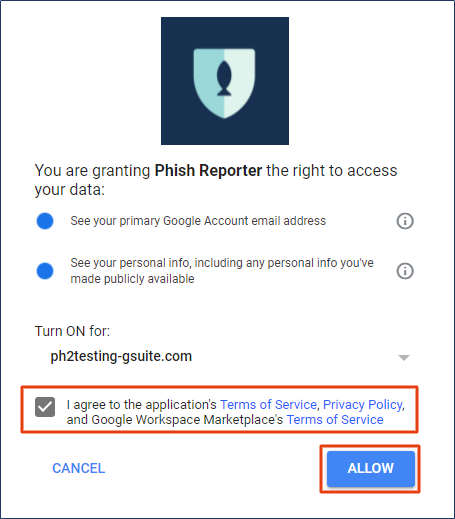 6. Select Done.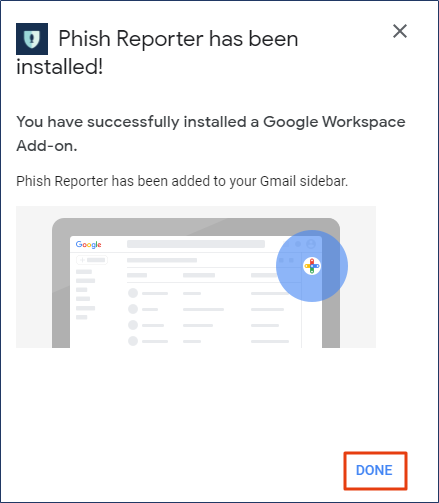 7. Navigate to the Google Admin console > Apps > Google Workspace Marketplace apps > Apps list to view the newly installed app.

After the Phish Reporter is installed in the Google Admin console, the next step is to apply the admin settings.
8. Log in to the Phriendly Phishing portal with your admin credentials.

9. Select the Phish Reporter tab on the left-hand side.
10. Go to the Phish Reporter settings, 1) General Information and enter the email address where the reported phishing emails will be sent to.

11. Complete the remainder of the settings according to your organisation's requirements.
Please view our acticle on Configuring Phish Reporter Settings.
12. At the bottom of the Phish Reporter settings page, locate the Google Workspace Version and select Copy. This token needs to be applied in the Gmail app.

13. Log in to the Gmail Admin account and open any email then select the Phish Reporter icon on the right-hand side of the page.

14. To activate the Phish Reporter, select Settings for admin.
15. Paste the token into the blank configuration box and press OK.
The panel will now display the Report Phishing Email heading.
16. To customise the settings, select Settings.
17. Choose from the two options.
You have successfully installed the Phriendly Phishing Phish reporter in Google Workspace. Visit this help guide to understand the user experience for reporting Phishing emails.