Administrators can mark learners' training results as completed. A passing score is between 80-100% and you have the option to enter a learners' score within this range.
If you mark the learner as completed:
The learner will display a successful passing training result score of 80%+
The learner will no longer need to take the training course
The learner will no longer receive notifications to complete the training course. (Note: This only applies if the learner is currently enrolled in an active training course path)
There may be exceptions for learners' being marked as completed, such as:
The learner is exempt from completing the training course
The email address added for the learner is a shared email inbox
The learner has already taken the training course
A learner has changed their last name and completed the course already
How to Mark a Learners' Training Result as Completed
1. Log into your Phriendly Phishing dashboard and select the drop-down for Dashboard > Training Results tab.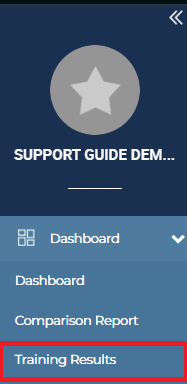 2. The learner in your account will appear in alphabetical order. Use the filter or search box to find the learner.

3. After entering the first, last name, or email address of the learner in the search box, select the learner by ticking the box next to their name.

4. Select the Choose Action drop-down and select the Mark course as completed option.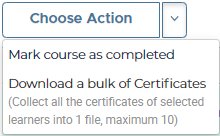 5. A pop-up box will appear for Mark Learner As Completed. Enter a passing score between 80-100% then select OK.
Note: This action can't be undone, please make sure you have selected the correct learner and score.
6. For that learner, the Training Result page will now display a completed training result for the score that you entered. It will also provide a completed certificate that can be downloaded using the Download Certificate download button on the right.
Note: The learner will not receive the completed certificate. You will need to download and share it with the individual.

Note: When you search the learners' activity through the Learner tab, it will also display the completed score for the training course.

Explore Phriendly Phishing's award-winning course catalogue here!