The High Risk User Report helps you identify students that fall into a high risk category based on the criteria you set. The criteria you set is based on your business requirements.
For example, students can be deemed high risk if they haven't completed their SCAM 101 learning module and are found to have clicked in multiple monthly phishing campaigns. These individuals will fall into a higher risk for your organisation in this report and we recommend further phishing education focused for the group.
How to enable the High Risk User Report
1. Go to the settings cog located at the top right-hand corner of your dashboard.

2. Select the High Risk Students tab.

3. From the High Risk Students tab tick the Use High Risk student report to enable in your account.

4. You will now be able to configure criteria to determine High Risk students. If you would like to add additional Criteria click the '+ Add Criteria' button.

5. Once you have configured your criteria click 'Update' located at the bottom of the page to apply your changes.

How to view the High Risk Students report
Once you have configured the high risk report, you can view your newly created High Risk Students report by clicking on High Risk Students located within the Dashboard drop-down menu.
*This report will only appear if you have enabled and configured the high risk criteria in your account.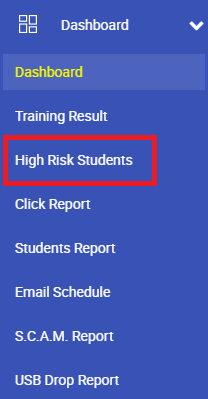 The number of users that are included in the report is also now visible from the main dashboard.