This article will take you through the automated workflow management for the Phish Focus feature.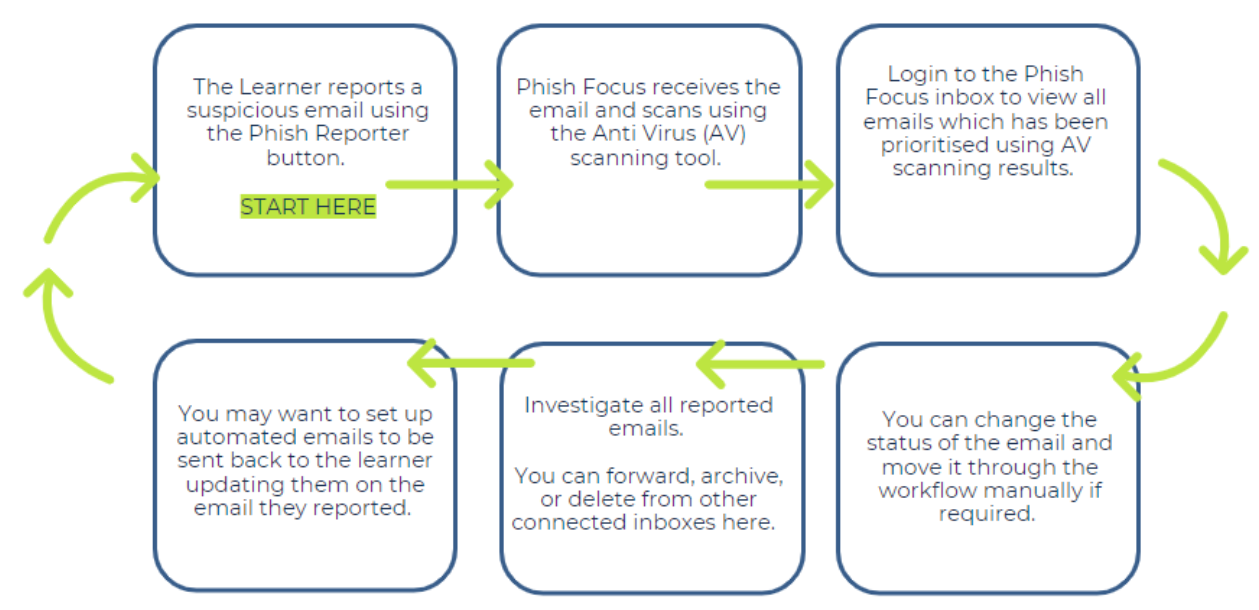 Requirements: Available for Phriendly Phishing customers using AD, O365 and Google Workplace Phish reporters. Please contact your CSM for Phish Focus pricing before we activate the feature.
Phish Focus Inbox contains three different workflows that have their own tabs: Received, In review and Resolved. Emails appearing in the Inbox are reported emails that can be filtered by date.
Below is a snapshot of what Inbox of Phish Focus looks like, which includes 3 main tabs

With Phish Focus, you can
1.) Search and Filter (applicable to all 3 main tabs)
Search using a keyword

Filter by Priority

Filter by Category

Filter by Scan Results
2.) Action emails from the dropdown options below
Send Email

Archive

Delete
3.) View the Inbox message's status
Clean

Infected

Error

Unscannable
Phish Focus 3 Main tabs
When there isn't any data, the platform will display the message "No data available in table"

When there is data, the system will display all received messages based on the filters

Column
Definition

Priority

Priority includes High, Medium, Low, Unknown

Administrators can change the Priority

Scan Results

Scan Results including Infected/ Unscannable/ Error
The platform will automatically scan the received message and then display the result in this column

Status

Status includes Received/ In Review/ Resolved

Administrators can change the Status directly

If the admin changes the status to In Review: This message will be moved to In Review tab
If the admin changes the status to Resolved: This message will be moved to Resolved tab

Category

The category including, Threat/ Spam/ Clean/ Unknown

Administrators can change Status directly in the table

From

Support hover tooltip

Name of the sender

From (Email)

Support hover tooltip

Email address of the sender

Subject

Reported At

Reported By

Support hover tooltip

Name of the reporter

Reported By (Email)

Support hover tooltip

Name of the reporter
This tab shows all messages that have a status of In Review
Columns are similar to the Received tab

Administrators can also search and filter

This tab shows all messages that have a status of Resolved

Columns are similar to the Received and In Review tabs

Administrators can also search and filter