If you're new to Phriendly Phishing or recently made changes within your existing infrastructure. It is important to ensuring IP and domain are whitelisted on your mail gateways to ensure Phriendly Phishing delivery and effective training.
The phishing campaigns are designed to give learners quick wins and more confidence by starting off with easy to identify phishing emails. Unfortunately, this also makes it easy for the anti-spam filters to identify them and render them ineffective.
There are two steps to provide the most effective training results
Whitelist our Phriendly Phishing sending domains and IP addresses
Perform a test to ensure both have been successful
Step 1
IP Address Whitelisting
54.252.116.154
54.153.200.195
52.63.70.98
52.64.99.134
Domain Whitelisting
Whitelist these emails on any products that may block them such as mail gateways as well as adding them to the safe sender's list used by outlook. This can be done via group policy object (GPO). Also, ensure they are whitelisted for the domain and any possible sub-domains.
support@phriendlyphishing.com

postmaster@launch.phriendlyphishing.com

@launch.phriendlyphishing.com

@training.phriendlyphishing.com
Step 2
Once the IP and domain addresses have been whitelisted across all your internal mail gateway systems. We will want to test to ensure the delivery of our emails and links.
What is included in a whitelist test?
A set of test emails will be sent to the test email above. These will include:
Sample phishing emails
A notification email
Training emails
Reminder emails
How to schedule a whitelist test
Here you will learn how to send a demonstration test and Phriendly Phishing emails to certain email addresses to ensure the whitelisting is working correctly. The emails will be sent at the date and time selected.
1. In your Phriendly Phishing platform, select the drop-down tab 'Zone' and select Test Whitelisting.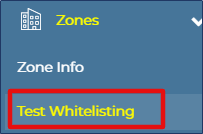 *If any whitelisting tests have already been performed in your account, then they will be listed in this area.
2. To generate a new whitelisting test Select the New Test Whitelisting to create a new whitelisting test.

3. Complete the fields to schedule the demonstration test emails.
Start date: DD/MM/YYYY you'd like to send the whitelisting test emails
Time: 24-hour clock for the email to be sent
Email address: Selected email address to send the whitelisting test emails to. To send to multiple email addresses please use a semicolon (;) to separate multiple email addresses.
Email Categories: Select the email by ticking each template. The phishing email templates are randomly selected from the template library.
4. Select Send Test Email now, select Create Test Whitelisting to schedule, or Cancel to for no action.
5. When the whitelisting test emails have been scheduled they will appear in the list. You can then select the edit icon.

This will display the list of emails that will be sent. This list will include the email subject and who it is sent from. Please use this list to compare against the emails you received.

*Please check that 12 emails arrived in the test email account's inbox and none went to the junk or spam inboxes.
*Disregard any actions or requests in these emails as they are only a part of the whitelist test.
6. Once whitelisting has been confirmed with the above, you can schedule your baseline, training, and monthly phishing campaigns and be confident they are being delivered to your users.
If you come across any questions or concerns, please contact Phriendly Phishing support.
Explore Phriendly Phishing's award-winning course catalogue here!