The Learning Paths allows you to view, edit and schedule your timeline of baseline, monthly phishing campaigns, training courses, and spear phishing campaigns in your zone.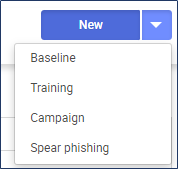 Baseline: the initial assessment to m

easure and provide a true snapshot-in-time of your entire organisation's phishing risk profile. A student is sent a baseline email template and is directed to a generic search page.

Training: learning courses available in your subscription such as SCAM 101, 201, 301, BEC, and Smishing.
Monthly phishing campaigns:

automated monthly phishing email campaigns sent to a large number of individuals with generic and no targeted information.

Ongoing campaigns to

ensure your learners are advancing their learning and practicing their new phishing knowledge.

A student is sent a phishing email template and is directed to a micro lesson to educate on key items to look out for in a phishing email.
Spear Phishing: the act of sending an email to a specific and well-researched target audience while pretending to be a trusted sender. A spear phishing email is purposefully built by a threat with the hopes of penetrating an entire organisation. It is well researched with names, roles, trusted company names, and branding to catch individuals out. If a single individual engages with a spear phishing email, it can compromise the entire organisation.
Explore Phriendly Phishing's award-winning course catalogue here!